Recipes from Chef Big Mike for #BreakfastWithBarbados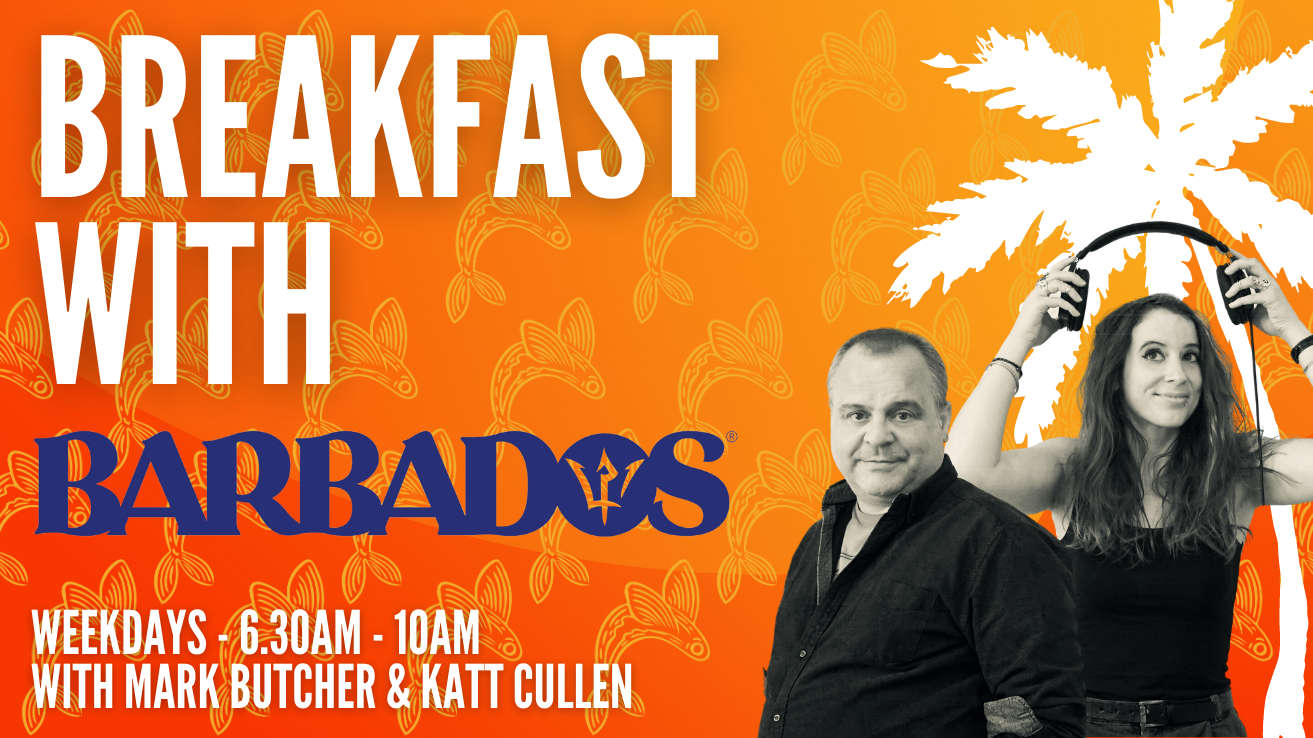 Chef Big Mike has been treating us to some delicious authentic Barbadian breakfast this week on the Breakfast show. Here's where we'll be adding the recipes for dishes mentioned on the show.
On today's menu we have ;
Bul Jol
It's salty, fresh and delicious!!

Ingredients for 8 servings:
Salted cod fish 1kg
2.5L boiling water
3 limes
2tbs olive oil
1 diced white onion
2 cloves of garlic 🧄, finely chopped
25g chopped spring onion
Half of a yellow bell pepper, diced
Half of an orange bell pepper, diced
2tbs fresh parsley
2tbs ground black pepper
Bonus crackers for some crunch (optional)
Preparation:

1) Break the fish into pieces, remove any bones, and place in a large saucepan with the water and limes. Boil over medium heat for 5-10 minutes.
2) Taste the fish to check the salt level. If it's still too salty, repeat step 1
3) Drain and shred the fish with your fingers into a bowl
4) Add the onion, garlic, spring onions, bell peppers, parsley, olive oil and lime juice to a bowl and mix together.
5) Mix together
6) Add a crunchy cracker for some crunch
Ham Cutter
Golden apple coated roasted gammon, hedgehogged with clove & slow roasted. Salty Sticky Sweet Tangy.
Ingredients:
Boneless Gammon Joint 1kg
20g of Whole Cloves
Jar of Bajan Golden Apple Sauce
Preparation:
1) Remove packaging from gammon and insert cloves evenly around the gammon.
2) Pre-heat the oven to 180 C and place gammon in oven for 30 minutes.
3) Remove from oven & coat evenly with golden apple sauce.
4) Return to the oven for a further 40 minutes
5) Slice & served in a mini salt bread (a floured salt infused soft roll) lashed with yellow hot sauce to taste.
Cheese On Bread
Orange & yellow cheddar spring onion pate' on a an eclipse cracker for that snap. (Memories of East Coast picnics)
Ingredients:
1 cup of orange cheddar, grated
2 cups yellow cheddar grated
2 Tbs mayo
A pinch of black pepper
1/2 small onion grated
½ cup of spring opinion finely chopped
1 tablespoon prepared mustard.
1 Tbs of yellow bajan peppersauce
Preparation:
Simply throw everything into a bowl & mix roughly. I like this pate' rustic.
The more you work the pate' the finer it will become.
Put in the fridge for 30 minutes to assist marination
Fish Cutter
Boneless fillet of fish marinated (24hrs) with fresh dill, thyme, parsley, young chives, crushed coriander stems, pink sea salt, pigeon chilli & zingy lime. Served in Salt bun with tossed baby gem lettuce white onion
tricolour tomato Bajan mayo & pickled cucumber.
Ingredients:
10g chives finely chopped
600g of flying fish or Talipia
I x pigeon chilli cut into 2
3 tbs Bajan Seasoning
2 tbs soya sauce
2 x limes
150 ml cold spring water
100 gram of arrowroot (cornstarch) (Cold)
5g fresh dill diced
5g coriander stems diced
5g fresh thyme buds
250g self-raising flour cold (3 degrees Celsius)
1 tsp of baking powder
Pinch of salt
2 pinches of ground black pepper
250 ml of rapeseed oil.
250 ml sparkling water
Preparation:
1) Add chives, coriander stems, chilli, Bajan seasoning, soya sauce, lime juice, dill & thyme into a bowl and mix together.
2) Add your fillets of fish.
3) Put into fridge for for 1 hour minimum 6 hours or overnight, preferably for deep marination
4) In a separate bowl mix together flour, arrowroot starch, salt & pepper, baking powder.
5) Add half the sparkling water to the bowl to mix. Add until you have a porridge consistency. (Do not over work the mixture).
6) Add oil to frying pan and pre-warm
7) Remove fish from fridge; dab dry and coat with flour
8) Dip fish into batter & fry until golden on both sides
9) Remove & rest the fish on kitchen paper/cloth to absorb excess oil.
10) Cut up your fish and layer in your salted bun with lettuce and any sauces you love.

Fish Cakes
Truly an Island favourite Salted Cod bonnet pepper enveloped in a light batter sautéed served hot sunshine yellow with hot sauce & mango relish.
Ingredients:
1 onion, diced
1 cup flour
1 tsp baking powder
1 egg lightly beaten
1 small hot pepper, finely diced
Chopped parsley, thyme and marjoram, to taste
1 lb boneless, skinless salt cod
1 cup water
Preparation:
1) Boil the cod in 6 cups of water for 4 minutes.
2) Throw off the water and boil a second time for 3 minutes. Flake the fish with a fork.
3) In a bowl, combine the flaked fish with the other ingredients.
4) Stir until a thick batter forms. You can add more water or more flour to get the desired consistency.
5) Drop the batter by teaspoonful into oil over medium heat, being careful not to overcrowd the pan. You may need to turn the heat down to medium-low if the fish cakes are burning before being fully cooked.
6) Drain on paper towels. Fish cakes are best eaten hot!
Fish cakes are even more delicious when dipped in traditional Barbados pepper sauce or Marie Rose sauce made by combining mayonnaise, ketchup and pepper sauce.
Nb) cold batter doesn't absorb as much oil, and instead, the batter is shocked to a crisp.


Pumpkin Fritters
These little puffs of joy become part of a traditional Bajan breakfast.
Ingredients:
2lbs pumpkin
1 tsp salt
1 cup flour
2 teaspoons baking powder
3 tablespoons brown sugar
2 teaspoons cinnamon
1/4 teaspoon nutmeg
1 tsp vanilla essence
2 tablespoons whole milk
oil for frying
Preparation:
1) Peel, and cut pumpkin in small squares and boil in salted water until soft.
2) Whisk flour and baking powder in a bowl and set aside.
3) Drain pumpkin very thoroughly to avoid water fritters. Further squeeze out water by placing pumpkin in between a kitchen towel.
4) Place pumpkin in a bowl - with sugar, cinnamon and nutmeg - and mash.
5) Whisk the vanilla essence, and milk in a separate bowl. Add to the pumpkin mixture.
6) Add flour and baking powder and mix until good dropping consistency.
7) Pour enough oil in frying pan to come up about half way and heat before dropping mixture in on a low – medium heat to allow fritters to cook through.
8) Watch closely (they can burn easily) and adjust heat where necessary. Fry until dark brown.

Beef & Potato Roti
Ingredients:
2 lb beef diced in to cubes
1 large onion mince
1/2 green bell pepper finely chopped
1/2 red bell pepper finely chopped
4 large potatoes, peeled and diced
2 garlic cloves minced
Beef Stock
1 cup hot water
3 tablespoons curry powder
1/2 bunch parsley, finely chopped
A few basil leaves (optional)
2 tablespoons rapeseed oil
For the rotis (10 to 12 pieces)
1 cup of flour
1 tablespoon baking powder
1/2 cup vegetable oil
1 cup warm water
2 teaspoons salt
1 can of crushed chick peas
2 garlic cloves mince
Rapeseed oil for frying

Preparation:
1) Put oil in a pan and sauté garlic and onion for 2 minutes.
2) Add beef and sauté until cooked but tender.
3) Add bell peppers and sauté for 2 minutes.
4) Add the beef stock
5) Bring to a boil and add the potatoes, salt, pepper, and cover.
6) Simmer over medium-low heat until the potatoes are tender.
7) If necessary, increase the heat to reduce the broth.
8) Halfway through cooking, add the herbs and curry powder.
9) Set aside to cool while preparing rotis
.
10) Sift flour and baking powder.
11) Mix flour, salt, garlic chana and baking powder
12) Make a well in the middle, pour in water and oil and mix all roti ingredients.
13) Knead at least 3 minutes until dough is smooth and elastic.
14) Cover the dough and let rest for 30 minutes.
15) Drop the dough on a floured surface, divide it into 10 or 12 balls.
16) Cover to prevent from drying.
17) Brush a little oil on a nonstick skillet over medium heat.
18) Lightly flour the work surface. Take a ball of dough, flatten it with the palm of the hand, turn it over and flatten again.
19) Roll out with a rolling pin and form a thin disk of 6 to 8 inches in diameter.
20) Cook about 1 minute on each side. Be careful not to overcook as the rotis should remain flexible and white.
21) Repeat until all the batter is done.
22) Stack rotis and cover with a cloth until the end of the baking.
21) Put a generous amount of stuffing & fold into an envelope